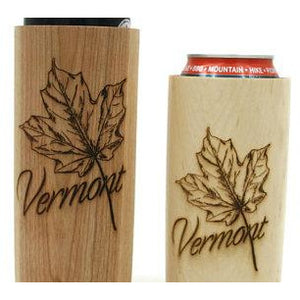 A better beer deserves a better cozy, so I bring you The Woodzie!! A solid wooden insulating can holder. The Woodzie is hand crafted from one solid piece of wood, and lined with cork rings to provide superior insulation without the use of nasty petrol-chemicals.
The Woodzie comes in two sizes, 12oz can, or 16oz. tall boy cans.
You can get your Woodzie made from 4 types of wood. Either Vermont Tiger Maple, Pennsylvania Cherry, Massachusetts Black Walnut, or Maine Ash.
You can have your Woodzie either plain, or banded with three lines for the base price. You may also choose to add a custom logo, or personalized engraving for an additional 8$ (logo must be 3"x3" or less.